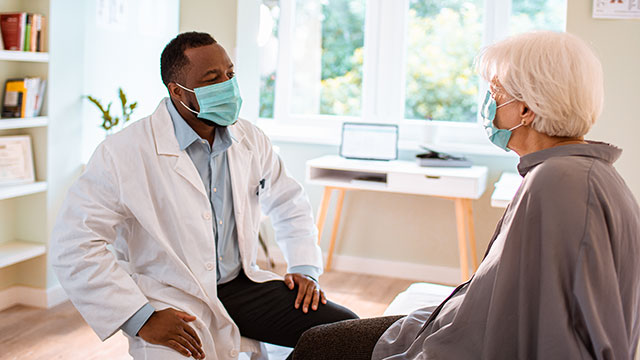 Patient Outreach: Addressing Patient Concerns Improves Your Financial Health
Many healthcare executives across the country are addressing reopening strategies to manage both COVID-19 patients and non-COVID-19 patients. One of the key factors in your organization's ability to rebound from the impact of treating COVID-19 patients and lost revenue from non-COVID-19 patients will depend on reengaging the consumer in taking care of their health. A survey of 50 clinical leaders by the Deloitte Center for Health Solutions reinforces this approach.
CONCERNS OF CLINICAL LEADERS
54%Low patient demand because of safety or infection concerns
40%Patients' ability to pay due to loss of income/loss of health insurance coverage
When asked what the clinical leaders were doing to address their organization's concerns of low patient demand and patients' ability to pay respondents say they are planning or are implementing steps to mitigate the concerns.
TOP 4 PLANS TO MITIGATE

CLINICAL LEADER CONCERNS
88%said they have partially or fully implemented plans to use telehealth for some or all nonprocedural visits
70%said they have partially or fully developed an external communications strategy for consumers
66%said they have partially or fully evaluated funding resources from government stimulus programs
36%said they have partially or fully begun measuring consumer sentiment (e.g., surveys, analysis of social media, or call center data)
Three areas of focus that could help move the needle:
Consumer/Patient outreach and engagement services


As the country, and the healthcare industry in general, begins to reopen from the COVID-19 pandemic, consumers/patients may still be hesitant to address their healthcare concerns. To help patients feel at ease when seeking routine care, elective care, urgent care or emergency care, your organization should consider using proactive approaches to communicate and educate communities on the steps your hospital or health system have taken to help ensure patient safety. This will encourage patients not to defer needed treatment. Now is the time to develop an education and outreach plan to proactively reach out to your communities and patients to keep them up to date with service line programs.
Eligibility and enrollment services


With the unemployment level higher than than pre-COVID-19, many consumers are still trying to recover financially. This can make paying for care difficult to impossible for some patients. To help alleviate financial concerns and stress for patients,  consider bolstering your eligibility and enrollment services program to assist patients in identifying and securing available options for coverage (such as federal, state or other third-party plans) or other financial assistance.
Care management services


There is consensus among U.S. healthcare leaders regarding the need to improve the health of the populations they serve, both to optimize clinical outcomes and lower the overall cost of care. The urgency of this need has crystalized with the COVID-19 pandemic, which has taken a disproportionately harsh toll on America's most vulnerable populations. Care management programs help identify and manage at-risk individuals and holistically manage acute and chronic care needs, support lifestyle wellness initiatives and enable coordination among doctors, health systems, patients and ancillary services, all while delivering health management that is high quality, cost effective and focused on keeping populations healthy.
TAKEAWAY
Now is the time to determine if your organization's patient outreach efforts are achieving your objectives. How your hospital or health system recovers clinically and financially is up to you. Can you benefit from a partner that can augment your patient engagement strategies to address concerns of delays in treatment? The time to act and focus on recovery efforts is here.