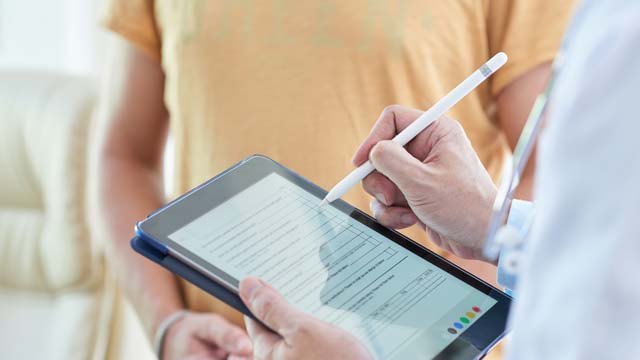 Denied Claims Mean Denied Revenue: The Key to Preventing Denials is Better Front-End Patient Management
Rising costs and ongoing labor shortages continue to challenge physician practices. If there ever was a time to shore up revenue cycle processes, that time is now—especially processes that lead to denied claims. In 2022, more than 10% of claims were denied, an increase of nearly eight percent over the previous year.
>10% of claims
were denied in 2022
While the cause of denied claims can vary, most originate from a lack of data integrity that stems from highly manual, error-prone patient access processes. Issues with registration and eligibility verification, incorrect patient demographics, and coverage issues are all top causes.
Waiting to address denials on the back end is a costly, resource-intensive approach that increases backlogs and stress for staff while rarely recovering the total amount owed. Research indicates that 86% of denied claims are likely preventable and that 48% of those may not be recoverable.
Denied Claims Research indicates
86% of denied claims are likely preventable
48% of those may not be recoverable
One of the best ways to prevent denials is to stop them where they primarily happen: In the patient access process. Capturing data here is one of the revenue cycle's most underutilized opportunities in healthcare.
Collecting Patient Information

Practices often rely on their patients to remember all their coverage information, demographic updates, and other data. This is why so many practices require patients to arrive a half hour before their appointment so that they can fill out paperwork. It's frustrating for patients who have probably filled out the same paperwork multiple times and who may have had to take time off work without pay to sit in the waiting room to manage this administrative task. And it's all because the provider doesn't have a better way to capture the information. In the end, the paperwork is often incomplete or inaccurate anyway.
A better approach is to capture coverage data before the patient's appointment, preferably during scheduling, either over the phone or via a patient portal. Patients have time to find the information requested and can input the data at their convenience—outside of work hours, after the kids have gone to bed, etc. Not only can this help improve the patient experience, but it can also relieve the busy front-desk staff from having to enter the patient's information manually into their system. Front-desk staff are often the lowest paid in the office but one of the most important in terms of patient satisfaction and patient access efficiencies. Eliminating manual processes for this vital team can help reduce stress and turnover.
Consumers appreciate having the same convenient digital options in their healthcare interactions as in their retail interactions.
Collecting coverage information at the time of scheduling also enables the practice to ask for payment earlier in the process, improving cash flow and reducing collection costs. Once a patient has checked out, providers have just a 30% chance of collecting a patient's financial responsibility.
Automating Manual Processes


Another way practices can prevent denials during the patient access process is by leveraging robotic process automation (RPA). RPA technology mimics often-repetitive human tasks through the use of rules-based actions. This allows the technology to perform transactions and complete these processes quicker and more accurately without human intervention. RPA technology can streamline pre-service or real-time eligibility verification and coverage discovery processes while proactively identifying prior authorization or medical necessity requirements. By flagging the need for additional documentation up front, practices can reduce denials, delays in care, and delayed reimbursement.
Is Outsourcing the Answer?


For a growing number of practices, outsourcing all or a portion of their patient access processes has become an attractive option, and rightfully so. There are many benefits outsourcers can bring beyond just filling headcount—benefits that practices may find challenging to achieve on their own. Following are just a few examples:
Allows leadership to focus on more strategic initiatives
Provides access to broader, multi-shore talent pools at lower costs
Delivers training at scale, which improves work quality and clean-claim rates while reducing errors, denials, lingering days in A/R, and delayed reimbursement
Reduces infrastructure costs, as outsourcers can spread each investment across many clients
Supplies broader access to automation technology, enabling greater process consistency and efficiency
Enables quicker and more proactive identification of payer trends for more timely intervention, facilitating fewer denials and faster, more accurate reimbursement
Offers access to a higher level of payer expertise than many practices are capable of
When choosing to outsource, it is essential to keep in mind that not all revenue cycle vendors are created equal. Those with the broadest experience and highest levels of expertise will deliver a faster return on investment.
Now is the Time to Act
Multiple surveys suggest that denials are now a top concern among healthcare leaders. Sixty-nine percent of healthcare leaders responding to an MGMA Stat poll report an increase in denials, with an average increase of 17%. In these challenging times, practices cannot afford to let potential revenue slip through the cracks due to denials. Making simple changes to the patient access process can help reduce denials, alleviate stress for staff, and enhance the patient experience.