Executive Buy-In Key to Addressing Opioid Epidemic
If you are not convinced that opioid abuse is an epidemic, consider Surgeon General Dr. Vivek Murthy's report on substance abuse issued in November 2016. The "Surgeon General's Report on Alcohol, Drugs and Health," is the first report to address the wider range of health problems and consequences associated with addiction. The surgeon general's report estimates that the annual economic impact of drug abuse is $193 billion. Dr. Murthy urges a holistic approach to battling the addiction epidemic, identifying such stakeholders as policy makers, regulators, scientists, families, schools and local communities. However, he missed some key allies in the fight: America's C-suites.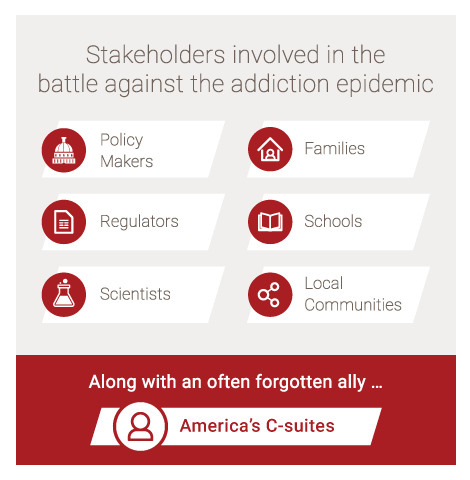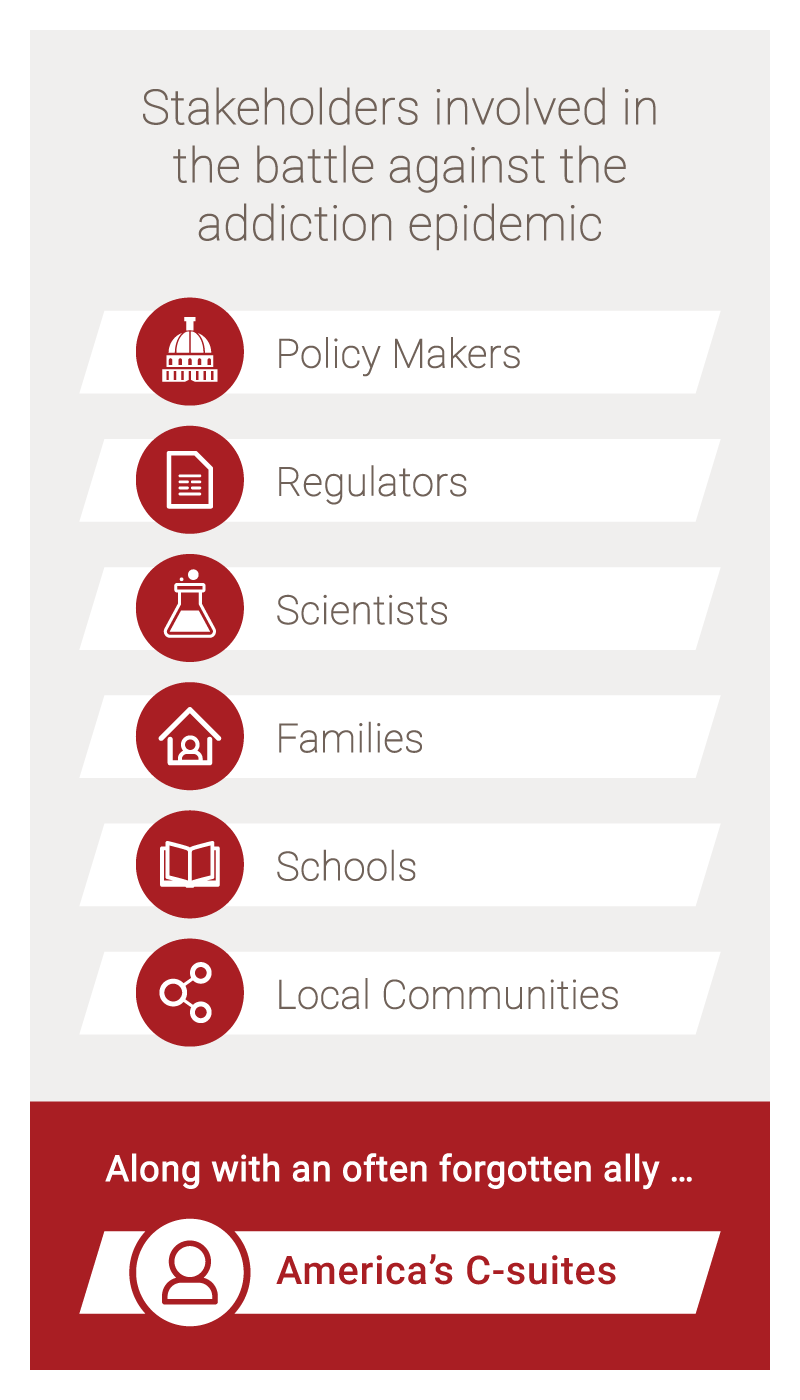 Executive decision-makers have a big say in how aggressive workplace health plans are in addressing the opioid issue. Yet, it's a safe assumption that corporate leaders aren't typically experts in best practices for effectively combating opioid addiction and abuse, or on how big the issue is in their population. Although corporate leaders are not expected to be experts in combating opioid addiction, C-suite awareness and engagement on this issue can drive treatments toward a more effective holistic approach that acknowledges addiction is a chronic and complex medical diagnosis.
As I've emphasized in previous posts in this series, an effective response to opioid addiction will be multi-faceted; there is no single answer or easy fix for this problem. Yet, a lasting solution will likely require health plans shifting from an acute, financially-focused response to opioid addiction. The complexities of addiction instead require a more holistic and population-specific approach to opioids in the workplace. This is where predictive modeling algorithms and population outreach through care management nursing services can help to identify high-risk participants, offer support in securing patient access to various preventive care, and work to prevent future expensive and acute patient encounters.
Of course, these approaches require time, money and resources – all of which need the green light from the C-suite. With that in mind, these three steps can help encourage corporate leaders to become champions of the effort.
Debunk the Myths
The opioid epidemic and its impact on the public gained exposure quickly. Heightened and rapid awareness without the opportunity for education has allowed existing misperceptions to flourish, while new ones start to emerge. Senior leaders must have a clear understanding of the facts and realities of the epidemic so they can make informed decisions.
Myths persist, for instance, about the source of the problem. In a recent Becker's article for example, former White House "drug czar" Michael Botticelli explained that healthcare leaders need to understand that, "however well-intended, it was our healthcare system that really drove this [opioid] epidemic. This was not an epidemic enacted by drug cartels. This started with overprescribing and has exacerbated some very long-standing issues regarding the underdiagnoses of addiction. Our healthcare leaders have a moral and ethical responsibility to do everything they can to put an end to this epidemic."2
Another misperception for some is that addiction is an unmanageable disease. In the same Becker's article, Botticelli explained, "Thirty-five years ago, people viewed the HIV/AIDS epidemic as an intractable problem. Now people are talking about the end of HIV. If we treat the disease of opioid addiction, we can solve this problem. We know what works in terms of treating substance use disorder and we have the knowledge to improve care. Now it requires the resources and the leadership to do it."2
Explain the ROI
Many executives view return on investment (ROI) in medical and pharmacy claims expense. But there is evidence that doing "the right thing" for health plan participants will ultimately control costs and improve productivity. When it comes to an issue as complex as opioid abuse, it's essential to frame ROI in a long view and a broader context that stretches beyond just medical expenses, whose hard dollar figures are easy to calculate.
For instance, addressing the opioid issue can result in a reduction in absenteeism and increased productivity. While these costs are harder to directly calculate, they are substantive.
Further, there are intangibles to consider such as having a workforce that believes management sees more than a line item and dollar figure when assessing participants' healthcare needs. In simple human terms, ROI could be measured in seeing a participant who could not easily walk his dog, take that dog for a jog because he received treatment that led to better health.
It's important to present executives not only with hard data, but also the broader perspective of how a proactive approach to opioid abuse can provide short- and long-term benefits to the organization's culture, participant engagement and bottom line.
It Takes a Team
Opioid abuse has become an epidemic, in large part, because there are so many roots to the problem. As a result, addressing it is thick with challenges.
To truly make a lasting impact requires a team effort in which healthcare providers and the employer – union leadership in labor environments – connect with the broader community to work together. Opioid abuse is ultimately a community issue that reaches beyond any one workplace, school or home. Consider that by 2020, the World Health Organization projects that mental and substance-use disorders will surpass all physical diseases as a major cause of disability worldwide.3
At Conifer Health, we emphasize the importance of true partnerships. When we partner with a client, we rely on big data and other assessments to identify the misuse of opioids in the participant population, as well as healthcare providers that may facilitate the problem by over-prescribing.
From there, we become one unit with each of our clients, meeting regularly to discuss what is working and what is not, as well as successes and shortcomings. We use that dialogue to create opportunities for improvement and to build relationships all the way down to the individual level.
No doubt, there are no easy answers to the opioid epidemic. Yet taking the steps to get executive leaders to understand the challenges – and support and invest in the best solutions – can go a long way toward a better workplace, healthier participants and stronger communities.
References
U.S. Department of Health and Human Services. The Surgeon General's Report on Alcohol, Drugs and Health. November 2016.
Becker's Hospital Review. How hospitals can fight the opioid epidemic and more: 5 Qs with former White House 'drug czar' Michael Botticelli. July 2017.
World Health Organization. Summary Report: Promoting Mental Health: Concepts, Emerging Evidence, Practice. 2004.