Top Revenue Cycle Challenges Facing Providers
The past few years have proved to be challenging for revenue cycle leaders. Changes in the healthcare industry have come fast and furious, including new regulatory demands, increased pressure from payers and ongoing market consolidation. With value-based care penetrating deeper into the industry and uncertainty looming about the future of the ACA, the near-term future will continue to test revenue cycle professionals as well as bring new opportunities.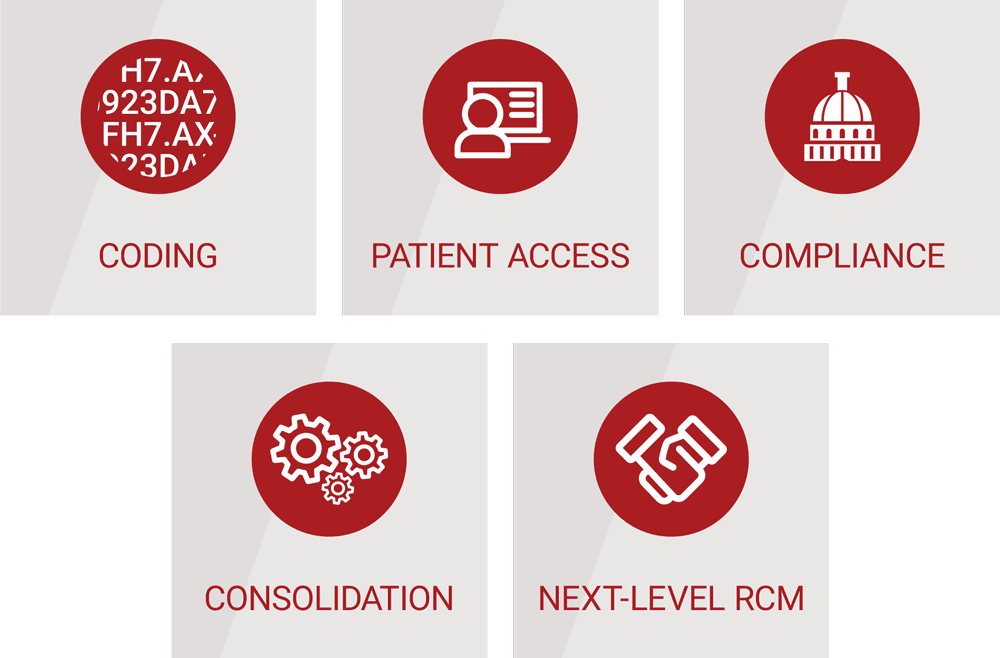 We've compiled the five most impactful revenue cycle challenges and their implications to help position you for success:
1.
Coding
Coding will continue to demand attention in the months ahead. In addition to keeping up with ongoing ICD-10 changes, organizations will have to battle coder shortages and an institutional lack of knowledge about the new coding system. Expect the challenges to deepen as health systems, hospitals, practices, insurers and other stakeholders try to quickly adapt to an environment that requires far more robust clinical documentation. Also look for organization-wide efforts to bring everyone along the revenue cycle continuum up to speed on ICD-10 updates to avoid delayed or unpaid reimbursements.
2.
Patient Access
While many organizations have focused on technology as an opportunity to improve patient engagement, now revenue cycle management teams will drive technology advancements for more efficient consumer-facing billing and payments. Look for enhanced capabilities in portals; kiosks; and other channels, including signature pads, electronic consent forms, pricing transparency, estimates at the time of service, and flexible payment arrangement capabilities. Also, many organizations will make communications between patients and customer service departments easier – allowing for quicker issue/complaint resolution – to sustain momentum in the billing cycle.
3.
Compliance
Keeping up with continuous regulations is nearly impossible. With healthcare continuing to receive an ever-increasing portion of national political attention, the focus on compliance is at an all-time high. Healthcare organizations will be overburdened with the complexities of healthcare regulations and will look outside their respective organizations for compliance assistance. The robust expertise available in the industry will create new partnerships with companies offering compliance-related services. Healthcare organizations will strategically outsource their technical compliance-related activities, shifting the burden of reading, digesting and creating their implementation strategies regarding regulatory changes to external experts. These organizations will then be able to focus internally on creating a culture that fosters compliance.
4.
Consolidation
Mergers and acquisitions will continue to accelerate as health systems look to fill out their portfolios and offset potential losses due to the transitioning of their focus from emergency services and hospital stays to outpatient and ambulatory care. Revenue cycle leaders will be instrumental in making sure their newly formed entity's workflows are properly mapped to existing platforms and that the shift can be tracked and reported.
5.
Next-Level RCM
If internal RCM teams struggled before, cracks will be exposed even more in the years ahead. Leadership will be looking to RCM teams to identify cost efficiency opportunities and to generate stronger cash flow. To avoid the expense of recruiting, hiring, training and retaining internal hires, many will consider outsourcing to professionals who already have access to the targeted talent they need. Revenue cycle services firms can help reduce the complexity of the revenue cycle, achieve economies of scale and ensure an optimized revenue cycle.