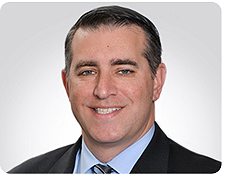 Dan Feldman
Senior Vice President
Chief Compliance Officer
"Exciting" isn't the first word that one would associate with corporate ethics and compliance programs but Dan Feldman, Conifer Health's Senior Vice President and Chief Compliance Officer, sees it differently.
"While most of us see rules and regulations, I see an opportunity to promote understanding," says Dan. "As part of a company that is strongly committed to high standards, my goal is to empower all team members at Conifer Health to make decisions that positively impact our reputation in the ever-changing healthcare marketplace."
As a recognized expert in enterprise risk management and compliance auditing best practices, Dan brings 20 years of experience in highly-regulated industries to Conifer Health. He is responsible for managing Conifer Health's enterprise-wide ethics and compliance program. Dan also directs the company's privacy and security compliance program.
Dan's expertise not only helps enrich Conifer Health's culture of ethics and compliance, it increases the value the company offers to hospitals, health systems and accountable care organizations. "By following compliance auditing best practices and continually adapting to the evolving needs of our clients, we empower them to focus on what matters the most to them," Dan says.
Prior to joining Conifer Health, Feldman held various leadership positions at Dean Foods Co. in Dallas, serving most recently as vice president, chief litigation counsel and chief compliance officer. In that role, he managed the company's ethics and compliance function, as well as its litigation matters, including employment litigation and counseling, and sat on the company's Enterprise Risk Council.
Achievements
Serves as Conifer Health's Senior Vice President and Chief Compliance Officer since 2017
Served as Vice President, Chief Litigation Counsel and Chief Compliance Officer for Dean Foods Co.
Member of the Society of Corporate Compliance and Ethics
Member of the State Bar of Texas
Bachelor's Degree, History, University of Pennsylvania
Juris Doctor (JD), University of Texas School of Law