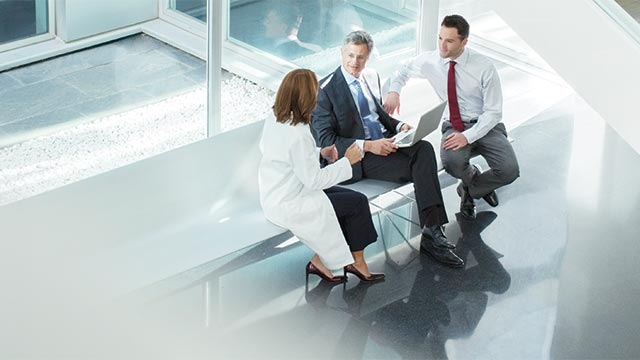 Strategic Planning in the New Year: Challenges and Digital Solutions
As the fourth quarter comes to a close, hospitals are examining 2022 year-end revenue, setting goals for 2023 long-term capital, and creating strategic plans for patient engagement and staffing stability to achieve pre-COVID-19 patient volumes and revenue.
CFOs will continue to focus on margin pressures, enhancing revenue, controlling costs, continued staffing challenges and enhancing the patient experience while improving efficiency and driving down costs.1
Challenge 1:

Patient Care is More Complex Leading to More Expensive Procedures.


From 2020 to 2022, non-COVID patients delayed or avoided care, including primary care and other specialty care visits, resulting in a 10% overall increase in patient acuity, as measured by the average length of hospital stay.2
37% of primary care physicians said that their patients with chronic conditions were in noticeably worse health resulting from the pandemic.3
According to a survey of primary care physicians by the Primary Care Collaborative and the Larry A. Green Center, 37% said that their patients with chronic conditions were "in noticeably worse health resulting from the pandemic.3 Additionally, 56% of physicians noted that they had seen an increase in negative health burdens due to delayed or inaccessible care.
The pandemic particularly impacted routine screenings for diseases such as breast cancer. A study published in the Journal of Cancer found that screenings decreased by 80.6% for colorectal cancer, 69% for cervical cancer, and 55.3% for breast cancer over three months in 2021. Data from Strata Decision Technology show that the case mix index (CMI) – another measure of the severity of inpatient cases for patients receiving hospital-based procedures- increased significantly from pre-pandemic levels. In 2022, CMI for patients receiving mastectomies (breast tissue removal) was up 11.1%; for appendectomies (appendix removal), it was up 15%; and for hysterectomies (uterus removal), it was up 7%.
Caring for sicker patients often requires more staff time, more intensive treatments and higher-cost drugs, and the need for more supplies and equipment. Combined with rapidly rising economy-wide inflation and reimbursement shortfalls, these mounting costs threaten the financial stability of hospitals around the country.4
In these circumstances, manually managing staff time, treatments, and medical records and coding is improbable, if not impossible. Digital data management enables healthcare systems to capture and manage critical information to maximize yield.5
Challenge 2:

Expenses are Still High from Labor and Specialty Supplies.


Consumers aren't the only ones feeling the pinch of rising prices. The rise in patient acuity has driven increased labor, drug and supply costs for hospitals, creating unsustainable financial challenges.
Hospital expenses have increased by 23% since 2016.6 Supply chain issues, medication costs, and labor challenges sparked by the COVID-19 pandemic contribute to spiking hospital expenses.
Multiple factors are contributing to alarming and sustained increases in hospital expenses. Growth in labor expenses is outpacing increased hours worked, suggesting hospitals are paying more due to nationwide labor shortages. Rising supply and drug expenses also point to worldwide supply chain issues.7
Hospitals are reporting a
7.2% increase in labor expenses
compared to 2021.9
The AHA said a Kaufman Hall analysis8 found hospital labor costs were up 12% in June from a year ago. Hospitals also are contending with higher-cost drugs, the need for more supplies and equipment, rapidly rising general inflation and reimbursement shortfalls.
Growth in labor expenses is of particular concern. Hospitals are reporting a 7.2% increase in labor expenses compared to 20219 and are saying that healthcare staffing agencies are charging far more than they did before the COVID-19 pandemic. In a bipartisan effort, nearly 200 members of Congress have asked the Biden administration to investigate price gouging by nursing staffing agencies.10
Challenge 3:

Payers Having Extensive Delays


Insurance companies have also been impacted by the "Great Resignation" and are struggling to replace headcount, which has exacerbated the issues created by delays in physician billing and has led to greater lag times in processes such as appeal review and approval.
The fundamentally unpredictable nature of a pandemic created significant challenges for payer operations in 2021.
Payers initially experienced cost reductions due to care delays but then experienced a subsequent increase in operating expenses due to the growing volume of COVID-19 patients and the resumption of deferred health services. Likewise, as insurance is an industry premised on forecasting and risk assessment, the fundamentally unpredictable nature of a pandemic created significant challenges for payer operations in 2021 (e.g., pricing and enrollment).11
Anthem Blue Cross, the country's second-biggest health insurance company, is behind on billions of dollars in payments owed to hospitals and doctors because of onerous new reimbursement rules, computer problems, and mishandled claims.12
Even when new staff is brought in, it can take months, if not years, for them to acquire the advanced level of skill needed, especially when it comes to coding, as issues during the coding process can cause claims to be rejected or denied. This, in turn, leads to additional work for staff, poor cash flow, delayed or incorrect reimbursement and write-offs.13
How can CFOs address complex patient care issues, rising costs, and payer delays?
---
---
---
---
Conclusion
The effects of the COVID-19 pandemic will likely continue to impact healthcare systems for years to come. Implementing digital strategies will help relieve the burden on administration, physicians, and nurses, allowing them to focus on what they do best: patient care.
References
https://www.healthleadersmedia.com/finance/how-healthcare-cfos-are-tackling-challenges-their-ever-evolving-positions
https://www.aha.org/system/files/media/file/2022/08/pandemic-driven-deferred-care-has-led-to-increased-patient-acuity-in-americas-hospitals.pdf
https://www.pcpcc.org/2020/11/14/primary-care-covid-19-week-22-survey
https://www.aha.org/system/files/media/file/2022/08/pandemic-driven-deferred-care-has-led-to-increased-patient-acuity-in-americas-hospitals.pdf
https://www.coniferhealth.com/solutions/clinical-revenue-integrity/
https://quotewizard.com/news/states-with-the-highest-hospital-expenses
https://www.kaufmanhall.com/sites/default/files/2022-09/KH-Hospital_Finances_Report-Fall2022.pdf
https://www.kaufmanhall.com/news/rising-labor-expenses-strain-hospital-finances
https://www.aha.org/news/headline/2022-10-04-report-hospitals-continue-face-extreme-financial-difficulty
https://www.chiefhealthcareexecutive.com/view/lawmakers-ask-white-house-to-investigate-price-gouging-by-nurse-staffing-agencies
https://nam.edu/health-care-payers-covid-19-impact-assessment-lessons-learned-and-compelling-needs/
https://khn.org/news/article/anthem-united-major-insurers-behind-on-payments-billions-owed-hospitals-doctors-covid/
https://khn.org/news/article/anthem-united-major-insurers-behind-on-payments-billions-owed-hospitals-doctors-covid
https://mhwwb.org/texas-health-organizations-address-physician-burnout-due-to-pandemic-state-of-reform/
https://www.mywellbeingindex.org/state-of-well-being-2021-2022-report
https://www.prnewswire.com/news-releases/now-hiring-survey-of-healthcare-financial-leaders-highlights-most-in-demand-revenue-cycle-positions-301504483.html