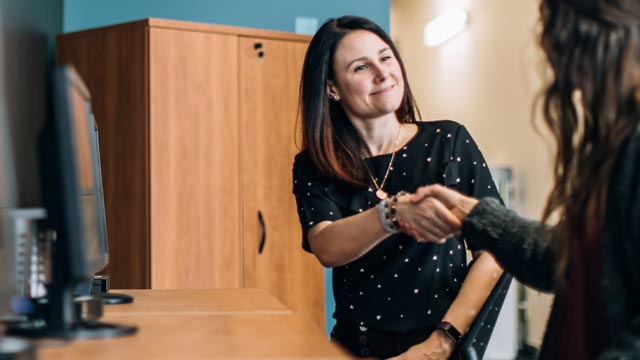 Health IT Experts Weigh in on the Importance of Patient Eligibility Services
It's no secret: American hospitals have a bad debt problem.
Since 2000, hospitals have collectively provided more than $720 billion in uncompensated care, according to numbers published in January 2021 by the American Hospital Association. On a more granular level, about one-third of all hospitals hold bad debt in excess of $10 million, according to a 2018 survey of healthcare executives conducted by Sage Growth Partners. The COVID-19 pandemic put additional pressure on the situation as more than 40% of survey respondents report seeing increases in bad debt, according to a 2020 Kaufman, Hall & Associates hospital and health system survey.
Having a reputation that you're a patient's advocate can spread quickly and it can influence decisions when shopping for healthcare.
This industrywide problem is unlikely to cease anytime soon as the number of Americans without health insurance is, once again, on the rise. While the U.S. healthcare system experienced a decline in rates of uninsured patients shortly after enactment of the ACA, these numbers started to move in the other direction in 2016. According to newly released estimates from the National Health Interview Survey (NHIS), the uninsured U.S. nonelderly adults increased to 30 million.
The situation is troublesome for both patients and providers. With the number of Americans without health insurance on the rise, forgoing preventive healthcare and using the emergency room—the most expensive care setting for both hospitals and patients—as a replacement for the doctor's office, is again trending.
Amid these challenges, more hospitals and health systems are working to better serve uninsured patients by helping them — many of whom may be unaware that they qualify for medical insurance benefits — navigate the complex benefits ecosystem. However, launching and maintaining an eligibility and enrollment program is no small feat for many hospitals.
How to cut through eligibility barriers


Smaller hospitals may lack the necessary staff expertise to execute eligibility and enrollment programs in a meaningful way. Other hospitals may see so many uninsured patients that conducting manual eligibility checks for everyone is simply unrealistic.
"Some organizations have such a high volume of patients to screen that you couldn't possibly hire a staff a big enough to keep up," said Scott Rowe, vice president and CIO for Conifer Health Solutions, a provider of tech-forward revenue cycle management solutions. "Another barrier to managing these programs effectively is inadequate investment in technologies designed to streamline the eligibility process," Mr. Rowe added.
Hospitals and health systems can deploy software solutions that leverage technologies such as machine learning to more quickly and efficiently identify patients eligible for medical insurance benefits. This type of technology can not only be used on the front end of the patient care journey, but at any point throughout a patient's relationship with a hospital or health system. This continuous assessment of patient insurance eligibility can sometimes allow for retrospective coverage, which can be applied to services already rendered. More and more care providers are tapping outside technology partners to help streamline eligibility services and improve coverage rates among their organization's patient population.
In 2018, the percentage of U.S. adults without health insurance hit 13.7 percent, marking a four-year high, according to the Gallup National Health and Well-Being Index.
"Hospitals and health systems are looking to partner with organizations that have the expertise and technology to assist their patient population," said Heather Smith, vice president of eligibility and enrollment services for Conifer. With its machine learning and artificial intelligence-powered technology platform, Conifer screens 1.3 million patients for eligibility and enrollment each year.
Community partners in the age of consumerism


The optimization of eligibility and enrollment services carries the added benefit of helping hospitals meet the challenge of higher expectations from consumers. Americans have become accustomed to transparent, convenient interactions in areas such as retail, and they're demanding the same experience in the healthcare space. In such an environment, providers' word-of-mouth reputations among their patient communities can matter a great deal.
"If someone has a good experience at the hospital, they might go out and say, 'Hey, did you know they'll actually help you find a way to pay for your visit?'" Mr. Rowe said. "Having a reputation that you're a patient's advocate can spread quickly and it can influence decisions when shopping for healthcare."
There is an egalitarian element to these bill payment support services. Hospitals and health systems are often among the most essential economic engines in a community, but the truly successful are considered pillars of healing in their communities. A technology-powered eligibility and enrollment platform is more than an operational tool designed to boost a hospital's bottom line — it is a resource that can help entire communities stand on firmer ground through expanded access to care and other benefits vital to better communitywide health and wellness.
"We're not just looking at the typical Medicaid or disability coverage but access to numerous specialty programs. We're also looking at the whole person to ease as many barriers to healing as we can. If they're eligible for food stamps, we'll help them through that process. If they're eligible for housing assistance, we'll guide them and help them with that," Ms. Smith said. "We really are here to help the community. It's the greatest thing we do."