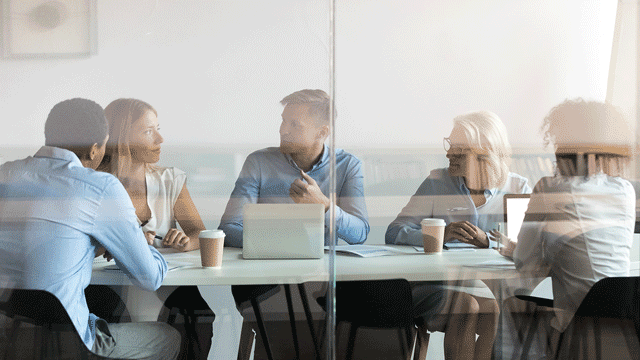 Revolutionize Your Core Business Through Strategic Partnerships
Health systems are increasingly feeling unrelenting margin pressures. From one side, consumers demand high quality services while carefully deliberating where they purchase those services. From the other side, health systems find themselves challenged by new care delivery competitors and new business models, supported by pro-competition regulations. Moreover, the payer mix is changing.
With all this in mind, it's clear that "business as usual" is no longer a viable option. Health systems must make fundamental changes to respond to these forces or lose market share and possible revenue. One way provider organizations can respond is through the development of strategic partnerships with organizations that can add services and value to the organizations' overall brand. Then health systems can focus on their core competency- care delivery.
Health delivery systems should consider utilizing platform companies that prioritize outcomes to help build strong brands and increase customer loyalty.
Companies in other industries have weathered disruptive change, similar to the change health systems are facing now by focusing on outputs rather than ownership and control utilizing strategic partners. Consider how American Airlines partners with Citibank to offer affinity credit cards, how Apple partners with Foxxcon to manufacturer iPhones and how Starbucks increased retail outlets by partnering with chains like Barnes & Noble and Target.
Within retail healthcare delivery, Target sold its 1,600 pharmacies and 80 medical clinics to CVS Health1/2. Target wisely traded the daunting challenge of developing scale and expertise in retail pharmacy to focus on its core business1/2. Both companies profited – Target's foot traffic is up, its customers get more efficient pharmacy services and CVS gets much wider exposure without the brick and mortar cost1/2.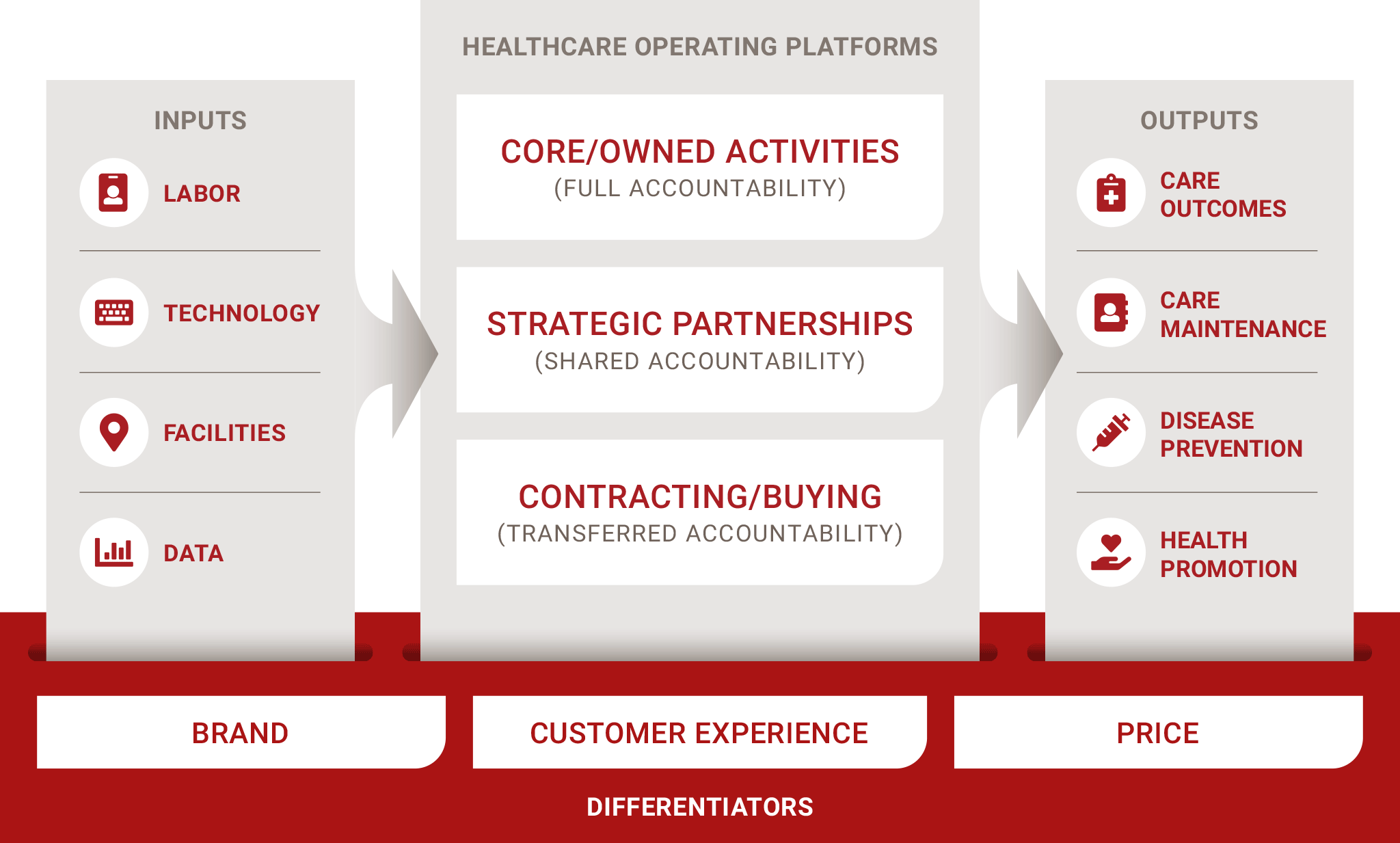 While all companies have core inputs that create their service, platform companies make deliberate decisions about which inputs and functions they own, buy or leverage through partnerships. Today, many successful companies prioritize their outputs – what they deliver to their customers at high quality and the right price – over ownership and control of all the processes that support those outputs.
Health delivery systems should consider a similar approach utilizing platform companies that prioritize outcomes to help build strong brands and increase customer loyalty. This different outlook requires leadership and managerial skills to organize all the activities, owned, partnered and contracted.
Health systems can align with strategic partners to deliver superior products and services. The right partnerships can create value for customers and partners alike. Dennis Dahlen, Mayo Clinic's CFO, describes the appropriate division of labor within Mayo's strategic partnerships as follows,
Mayo must be world-class in medical research, medical education and clinical delivery. That requires all of our corporate bandwidth. We need strategic partners, like Google in cloud computing and data-driven innovation, to help us optimize our operations, advance our capabilities and deliver consistently great outcomes for our customers.
– Dennis Dahlen, Mayo Clinic's CFO
This platforming mindset creates possibilities that can solve some of the barriers to improving health system margins. Intelligent operation companies can deliver real-time information on things like bed openings and discharge orders, so clinicians can act faster, improving emergency department flow and reducing length of stay. Revenue management companies, like Conifer Health Solutions, can help create an integrated patient experience and drive sustainable, financial performance for health systems.
TAKEAWAY
Healthcare delivery requires the coordination of hundreds of business processes on top of clinical care. With strategic partners, health systems can focus on their core competency – delivering high quality patient care and outcomes. A cohesive delivery of services under a unified brand, in which each partner contributes its highest competency, will help engage customers and allow for increased margins for long-term sustainability.
References
https://www.forbes.com/sites/greatspeculations/2015/06/30/cvs-to-buy-all-of-targets-pharmacy-stores-a-win-win-for-both/#7b25d682508c
https://www.usatoday.com/story/money/2015/06/15/target-cvs-pharmacy-sale/71248932/